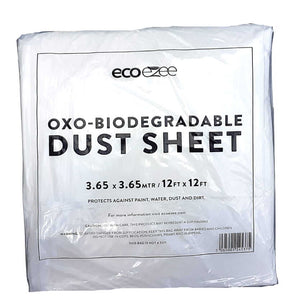 Eco Friendly Dust Sheets 
Our painting dust sheets are ethically produced, eco friendly, biodegradable dust sheets. They offer a great alternative to traditional dust sheets that are typically plastic based.
These dust sheets are used from anything from floor coverings to door frames, to doors and furniture. The dust sheet is a high-quality and durable sheet. It will protect against paint, water, dust, and dirt. The sheet is absorbent and leak-resistant to paint, stains, and solvents. All our dust sheets are reusable, strong, and slip resistant. 
This product is oxo-biodegradeable, meaning it breaks down rapidly, minimising environmental impact.
If you have any questions about eco friendly dust sheets, contact our paint specialist Pat on 01 514 3310. With over 15 years paint industry experience, with some of Ireland's biggest paint brands, you'll get the knowledge you need. 
No matter where you are in Ireland, we can get the product to you. If you have custom requirements or questions, email info@graphenstone.ie for support.